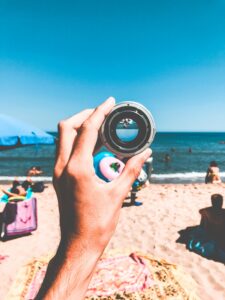 As summer approaches, we start thinking about how to protect our skin from the sun. And we should! (Visit this link to see last year's tips on protecting your skin).
Protecting our skin is not just about applying toxin-free sunscreens, serums, and moisturizers. These are all great and helpful, but the most important aspect of protecting our skin starts from nourishing ourselves from within.
I often tell patients that the skin is a window, as it gives insight into what is going on within our bodies.
Skin conditions such as eczema, psoriasis, acne, rosacea, age spots, hives, dryness, and others give us clues about deeper imbalances in immune function, hormones, the microbiome, digestion, and inflammation.
Our largest organ, the skin, is responsible for maintaining hydration, temperature regulating, and providing protection. The skin has a microbiota as does the gastrointestinal tract (GI). When our GI is out of balance, our skin becomes imbalanced, dysbiotic, and inflamed, and therefore not able to function as designed. So, if you are interested in healing current skin symptoms or even optimizing the glow, hydration, and complexion of your skin, the first organ we need to address is the Gastrointestinal Tract.
The best part about getting your skin to glow from nourishing and balancing yourself from within is that these effects (while they may take longer to achieve) last longer too. ?
Here at The Center, we take an individualistic approach to addressing skin conditions. Treatment is tailored to each person based on their constitution, unique imbalances, and goals.
To schedule an appointment to see how we can help you experience, more youthful, clearer skin, call 310-914-3400 to be connected to our New Patient Coordinator.
With much care,
Dr. Sara Koorjee