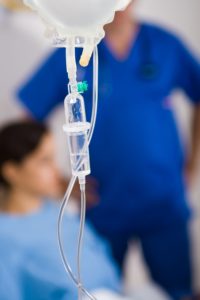 Intravenous (IV) and Intramuscular (IM) therapies are frequently used in traditional medicine to achieve fast and potentiated results over oral therapy. Integrative physicians have seen powerful results using the administration of beneficial molecules, vitamins and nutrients for years, providing benefits beyond those experienced in oral supplements alone. Most vitamins and supplements are given orally.
Given today's overload in toxic food, environment, and stress, we are now seeing a disruption in some, if not all, of the important steps of digestion. Due to this, we are seeing an influx of patients with damage to the gut lining and its membranes. This means patients are unable to breakdown and absorb all of the nutrients presented in this manner.
By using IV and IM delivery of nutrients, we are able to bypass all digestion, and deliver these nutrients exactly where they are needed and most usable – the blood. Our office uses all non-GMO ingredients and the most bioavailable form of injectable substances in ALL of our formulations so we can provide the highest level of care too ALL of our patients.
If you've noticed that you aren't receiving the benefits of your supplements, you have digestive issues, or you think you might have issues with absorption, these therapies could be a game changer for you!
Call or email us to schedule your free IV consultation today!